Thor's wheel is a side event during the "season events". Collect thunder tokens from mission rewards to play this wheel with mega rewards. How about a joker card, ultra attack, 2,500 spins, 1.5M XP and of course some amazing chests. How you play this amazing wheel I tell you in this post.
What is Thor's wheel
Thor's wheel is a reward wheel which you can play during the seasons events, for example Treasure hunter. This wheel takes the place of the daily bonus wheel during the time of this event. But the daily wheel is still available. Just open it via the menu. When you first open the wheel it says you cannot play. You have to earn thunder strike tokens. For each token you get a shot at the wheel.
How do you get tokens?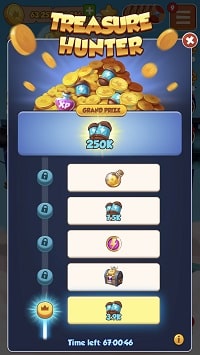 You earn tokens tokens when you complete missions in the Treasure Hunt event, or the event which is on at that moment. Just check in your event if tokens are available as rewards. Not with every mission tokens can be won, unfortunately, but there are special Thunder strike missions to play Thor's wheel. You can recognize these missions by the thunder strike symbol. As the rewards are big, you'd be aware that getting these tokens is not that easy.
What can you win in Thor's wheel
Because getting thunder strikes tokens for the wheel is not easy, the rewards are big. And when I say big, i really mean big. How about instant Mystery chests, 2,500 spins, 1.5M XP, triple ultra attack, 400% Coin Blaze and 5b Coins at once. These rewards you usually get for playing the game 30 days in a row or getting really far in a mission. Or of course when you buy stuff. So, forget all about that, and just play Treasure hunt. If you need some extra spins to play on, just don't forget our Coin Master Free Spins.
Coin Master Free Thor Spins
One of the main advantages of This event is that in Thor's wheel you can win a lot of Free Spins. These spins are in direct rewards, but also in chests. This means you can use Thor's wheel also to grow your spins stack after you have lost a lot of spins. Or just to get to a new level of spins of course.
Best strategy to play Thor's wheel
During play the rewards you can get from Thor's wheel get bigger and bigger. For every time you hit the pink tiles the wheel is upgraded to get better rewards. That's why it is a really good idea to save a lot of tokens in Thor's wheel before you start to use them. Last time I played with 14 tokens and I found that I should have saved more. It took quite some time to get past the first wheel and get the upgrade. I hardly had any tokens left to play in the higher rewards area.
What are your thoughts about Thor's wheel?
Have you played Thor's wheel already? And what did you win. Was it worth to play this far in Treasure hunt. Please let me know via the comments. If you have some good strategies on how to get thunder strikes or use the rewards to complete your next village, they are very welcome!