Coin Master villages cost coins to build. For every new village you build in Coin Master you need more coins. The first village costs only a mere 4 million coins. The second village will cost you a little over 6.5 million. Moving up to village 29 you need already over 100 million coins. This amount grows to billions of coins if you are past village 74. Then village cost you serious amount of coins. To know how much coins are needed to complete building a village you can use a simple calculation. This is not exact, but will get you really close:
30 x the cost of the first star on the last line when building a village
How to calculate the cost of a village in Coin Master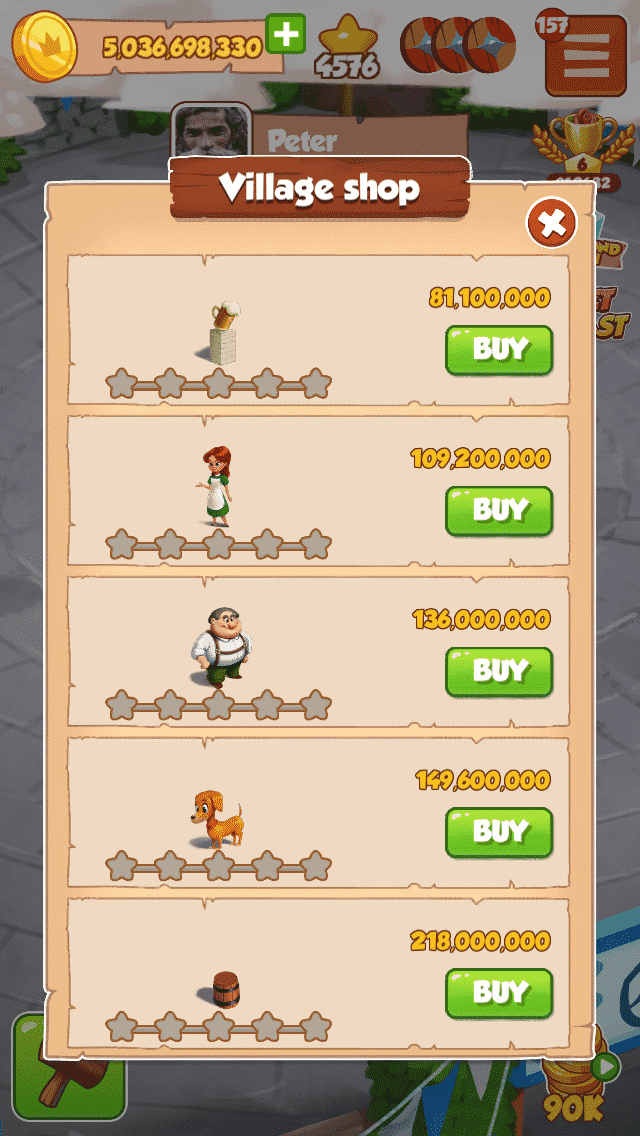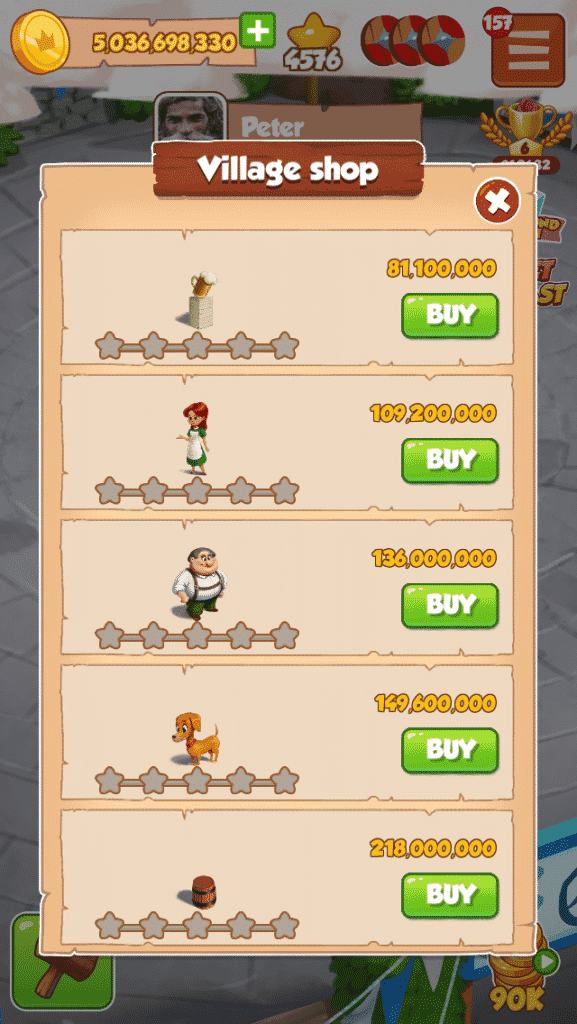 En example. Imagine you are on village 113 – Oktoberfest then the cost of the first star on the last line is 228,000. Multiply that with 30 and you see that you need 6.85 billion coins to complete this village. You'd better start stacking your coins for this one. If you need more free spins to get along make sure you get your daily free spins! But this is only village 113. If you advance even further you need even more coins. So try to master yourself in getting really good in playing events of getting big raids from your friends.
My tip for you: Don't get scared. Just go for the big raids 😉
Get notified for new Free Spin Links!
Fill out this form to get notified for new free spin links and updates about this website. Don't worry, your data will be safe and secure. We don't sell your data to other companies. You can unsubscribe at any time. More free spin links below this form.
NB. Please note that you have to confirm your e-mail address before we can actually send you e-mails!
To get these Coin Master free spins and coins you have to click ok the link while your Coin Master app is opened. For iPhone users, you have to click on the banner on the page that pops up between the click on this website and your Coin Master game app.
My second tip: If you have build items in your village and someone destroys it, it will take you only half the amount of coins to rebuild.
We did the math for you
Since we know not everyone is a wizzkid in math or has a calculator on his hands we did the math for you. In the table below you will find roughly the cost of villages in coin master. If the numbers in a village are blank help us fill this one in by commenting on this post.
update: we completed the list of Coin Master Village prices!
20% Discount on village cost
Since the Golden Age event in Oktober 2019 village prices have dropped with 20%. I don't know if this is for all villages or certain. That's why I added an extra column with discounted village costs. Can you let me know via the comments which village you are on and what the village price is.
Coin master village price list
Below you find the village price list of all villages up til village 203 in Coin Master.
Your questions about village costs answered
How do I know how much my village costs?
If you multiply the cost of the first star of the last item you have to buy by 30 you know how much the total village costs. A complete list of all village cost you can find here.
Can I get a discount on village cost?
Once a year during the Golden Age event you get a 20% discount on all village items. This year the discount was kept, so all village items are 20% discounted now.
Should I build during Village Master?
Yes, you should definitely build your village during Village Master. You get extra spins, coins and xp to help you get ahead faster!
Why are villages in Coin Master so expensive?
It is fairly hard to build villages once you are over village 100. Why? Because Coin Master hopes you spend real money on buying spins. If you play with the right tactics you can play and build villages for free.
What were the cost of your last village?
What village did you complete the last? Did the cost of the village match the numbers above? If not, please let me know and we will adjust the list. Good luck building the next village!