The only moment I complete a village is during a village event. This way my villages are cheaper to build or i get a lot of coins or spins extra for completing it. This means I use the tactic to stack coins and build villages at once. You can follow some guidelines about big raids to stack your coins and how to protect your village from being attacked here, but that's not the main subject of this post. In this post I tell you how much it can gain you to switch your tactics a little and how you can combine the Village Mania and Village Master events to make completing your villages even more worth while.
What are Village Mania and Village Master
Village Mania and Village Master are both sub-events during the main events in Coin Master. The both last for 1 to several hours. The big difference between them are the rewards. Village Mania gives you a discount on specific or all items in your village. At this moment there are 2 types of Village Mania. In the first you get a 65% discount on all items in the last row. In the second you get 20% on all items. If you build a village at once this means both cut the total village cost by 20%.
Village Master gives you spins and XP
Where Village Mania gives you a discount, Village Master gives you rewards. If you complete a village during Village Master you get coins, spins and XP. Sometimes you don't get spins, but you get a big amount of coins. The number of spins differ per village. The higher your village number, the higher the amount of spins. The same goes for the coins, though.
Is it best to go for Village Master or Village Mania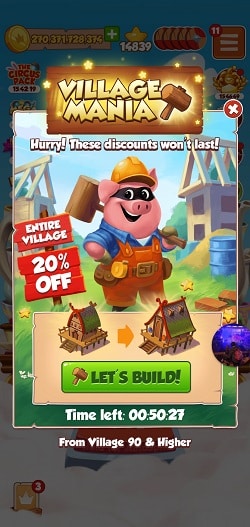 Village Mania is very nice during the event. You get the discount on every item you build. You don't have to complete your village for it. So also if you decide not to build your complete village at once you profit from this village event. Village Master gives you rewards only after completing your village.
Go for the holy grail: combine Village Mania and Village Master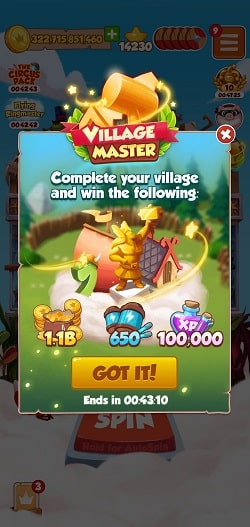 Because Village Mania gives you rewards when you build your village and Village Master after completing your village you can easily combine both events. That means you can get a discount when building your items and get a reward for completing it. How does this work.
First stack enough coins to complete your village at once. Click here for Free Spins to help you.
Make sure you have your shields full
Wait for Village Mania
If it is Village Mania build your items
If you get the 65% discount on the last items, build them all 5
When you get the 20% discount on all items, build all items except for the last on the first row
Stop building and keep a close eye on your village
If your village is attacked then spin at 1x until you have regained your shield
Wait for Village Master and complete the last item
This way you don't only profit from the discount, but also get the rewards for completing the village.
Can we do even better?
Yes you can do even better, but that requires some more patience. If you combine the Village Mania 20% discount on all items with the Village Mania 65% on the last row you can even get a bigger discount on your village. But since these event usually don't show up close after each other you probably have to wait and protect your village even longer. But if it works out, you can build your village with about 35% discount and also get the rewards for completing it.
Have you tried this tactic already?
I have used the tactic of combining Village Master and Village Mania for several times already. Just the variant in which I first build items and then complete it with Village Master. As I am on level 192 already it saved me a lot of coins (villages cost about 80 billion coins here). How do you use these events and what are your tips and tricks to use them best? Please let me know in the comments.
Last Updated on March 3, 2023 by Erik Dekker