A lot of people ask what the stars mean in Coin Master. Do they give you a benefit with a raid or an attack? Or is there another reason why you should collect them. In this post I tell you what you need to know about them, how you collect them and why you should have a lot of them. Or not.
Why do you need stars in Coin Master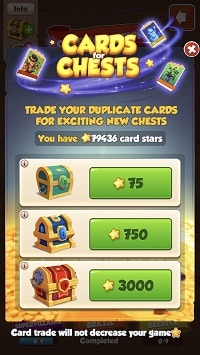 Stars in Coin Master didn't have a purpose other than for the leader board until the new Cards for chests feature appeared. On the leader board the person with the most is at the top and the one with the least number can be found at the bottom of the list. In the menu in Coin Master you can open the leader board and you can see how you do against your friends, your countrymen and all Coin Master players over the whole world. In the Cards for chests feature in Coin Master you can trade your duplicate cards for chests. The number of stars on your duplicate cards determine how many cards you have to trade for chests.
How do you get your stars
There are three ways you get stars in Coin Master. The first way is to build items in you villages. For each village item you build you get 1 star. If you want to know hoe many coins you need to build a village, just look at our Coin Master Village Cost list. The second way is when you get a new card in your card collection. This happens when you buy chests. The minimum worth of a card is 1 star, the maximum is 5. The third way is to upgrade your pets. For each upgrade you get a number of stars. The more you upgrade your pets the higher the number of them for an upgrade.
Do they give you benefits in Coin Master
Besides respect, having more stars gives you the option to buy chests to get your missing cards. In some cases where you want to join a team there also might be a threshold set by the owner of the team before you can join. In all other cases it is just a number telling you what your rank in Coin Master is.
How many stars do you have?
I am curious how you stand on the leader board. Please let me know in the comments how many stars you have and what is your position in your country. Did you also use your spare stars to buy chests? If not, make sure you do. This is a great addition to the game!
Last Updated on March 1, 2023 by Erik Dekker