The Piggy Bank is a new feature in Coin Master. People who play Pirate Kings are probably already familiar with this feature. In short this is a place in which you can store things (in this case spins) earned in the game to buy at a later moment. In this post I tell you everything you need to know about this new feature.
What is the Piggy Bank in Coin Master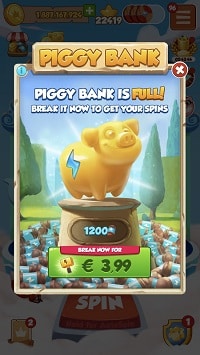 The Piggy Bank is a new offer in Coin Master. When you spin items like spins are added to your stack. In Coin Master these spins are added when you collect spins from the slot machine. This happens when you have three capsules on a row. Maybe in the future also other rewards are added, but for now it is only spins.
How to open the Piggy Bank
To collect your rewards is really simple. Just wait until your savings jar is full and click on the button. After that just pay the requested amount of money and the rewards are added to your account. Just as simple as that.
Is it worth to spend money
Breaking your Piggy Bank is not free. In my case opening the savings jar will cost me 3,99 Euro. In it there are 1200 spins. If you compare this offer to other Coin Master offers it is a good deal. But on the other hand buying this should not be necessary if you use the other strategies that are on our website. So, it is really for you to decide if you go for it. If you just want Free Spins, take a look at our daily Free Spins Links!
Did you break your Piggy Bank?
The Piggy Bank is a new feature in Coin Master. Did you already fill and break it? How many spins did you get from your savings jar? Please let us know via the comments for to learn.
Last Updated on March 2, 2023 by Erik Dekker