With an attack in Coin Master you not only damage your friends or other players, you also get coins or rewards (during Attack Madness). Now Coin Master has created a new event in which you can give a boost to your attack power: Ultra attack. In this post I tell you all you need to know about this Ultra Attack event and how you can use it best. And just to be clear, if you try to crush your friends village you might do some damage control afterwards.
What is Ultra Attack
Ultra Attack is a side event in Coin Master in which your attack power doubles for a short time. This means when you attack your opponent the damage you do is double or even triple and so are your earnings. Good to know is that not all attacks will be these special attacks. In the time of this event the of attacks that will be ultra attacks only the first two or three attacks double or triple your power. You now that you have this event as you see the special Ultra Attack hammer as an event. Besides the hammer you see an indicator that shows you how many attacks you have made and how many you have left.
How do you get Ultra Attack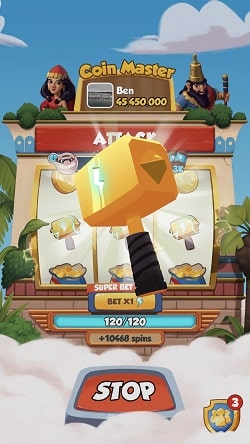 Ultra Attack is a side event which can be a regular side event like Village Master or Coin Craze. But sometimes you can win Ultra Attack also as a reward during another event. For example, you can get this event with Attack Madness or in Premium Reward Calendar events like the Welcome Back Boost. As other events the time you have to use Ultra Attack is limited to a short time. For example 30 or 60 minutes. If you need some extra spins to finish off the next village of your competitor, please use the free spins links!
Is this way of attacking useful
The double or even triple attack is of course useful, but if you compare it to a good raid it's not that good. So, in what cases will an Ultra Attack help you? At times where you need a lot of attacks to win, this definitely will help you. And of course, if you plan on destroying the village of a friend. Make sure you have at least enough spins to play the whole event, or at least until you have used all your attack power units. It would be annoying if you would end up with some attacking power left and you are out of spins.
Have you ever used the Ultra Attack?
Have you ever used the Ultra Attack? And what did it bring you? Did you make some extra coins, or did you just have a good time playing with friends and crush their village? This event might just turn into something we all definitely could use. Please let me know in the comments. We might just all learn something about it and make even more useful attacks with this great event.