The Underwater Wonders event is a new event in Coin Master in which you can get awesome rewards. The event is quite similar to the Treasure Chest event, but has sons thrilling differences. In this post you will learn everything you need to know about this event in which you collect tridents to collect amazing rewards.
What is the Underwater Wonders event?
The Underwater Wonders event is a new event and is quite similar to Treasure Chest. In this event you can collect tridents and use them to open shells. In these shells you find rewards that can be really helpful, like spins, coins and chests. The Underwater Wonders world opens if you have collected enough points from playing events. It closes as soon as your tridents are gone or if you stumble upon the shark.
How to collect tridents
You can find tridents in Coin Master in several ways. The most easy way to get them is to fill the bar. Every time you fill the bar you get an extra trident. Other ways are to play the main event. In the main event you get tridents as a mission. If you need more of them you also can buy tridents, but that is something I don;t recommend.
Tricks to find the seahorse in Underwater Wonders
Since this is a new event there is not much known about the best strategies to hunt for seahorse. You might use the tactic we discovered during Treasure Chest. That is, open the shell that is directly opposite the shell you find the previous seahorse in. If you find better strategies please share them. If you need extra spins and coins to get your next voucher to open the game, make sure to visit the free spins page.
Watch out for the shark!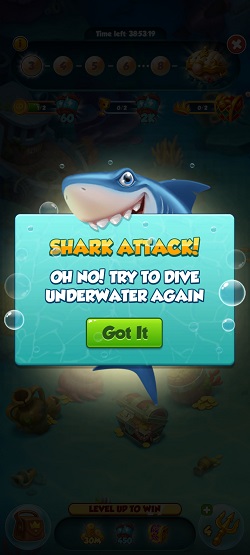 In this event there is a huge pain in the ass. In some of the shells you find a shark. If you find the shark your trip in the Underwater Wonders is directly over. You have to fill the bar again to play on. This means that if you have a lot of tridents you might not be able to use them.
What are the rewards in Underwater Wonders
The biggest rewards in Underwater wondersyou get when you find the sea horse in one of the shells. You get spins, chests, xp and coins. Every mission you complete gives you higher rewards. In total there are 12 missions to complete. Besides that there are rewards you can win by collecting items from the shells. Coins give you spins, Ultra attack hammers and Coin Craze. Cups give you high spins rewards and crowns give you chest rewards. Chances of getting cups and crowns are low.
Differences to the Treasure chest event
There are a few major differences between Treasure Chest and Underwater Wonder. The most obvious are these:
Keys are much more easy to get than tridents
If you find the shark you have to leave the event and only if you fill the bar again you can play on
The reward structure is different
You can only enter Underwater Wonders if you have filled the bar, where in Treasure Chest you can enter anytime you want
What are your thoughts about this new event?
My thougths about the Underwater Wonders event is that this is much more difficult to play than Treasure Cave. First, the tridents are much harder to get and second, the rewards seem smaller. What are your experiences with this new event by Coin Master?