Once in a while a new event enters Coin Master. The newest event is Treasure Cave. In this event you can win free spins, coins and XP when you open the right chest. You can open the chest with keys you win while you play the game. In this post I tell you everything you need to know about the Treasure Cave event.
What is Treasure Cave
Treasure Cave is a side event in Coin Master. It lasts for a few days and in these days you can win free spins, coins and XP. If you are a Pet Master player you might recognize the event as they have the same event there too. There it is called Picking hunt. The goal of this even is to open treasure chests. If you pick the right chest you get a reward. You recognize the right chest when you get the golden pig head. If you do you move to the next level. If you find all 10 treasures you win the big reward.
Collect keys to open treasure chests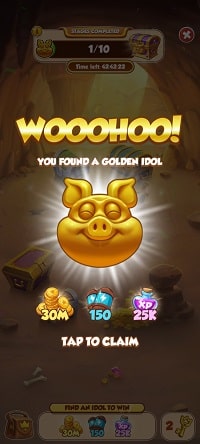 In order to open the chests in Treasure Cave you have to collect keys. You get these in certain missions in the main event, or when you random spin the wheel. If you are really desperate to get keys you can even buy them, although I highly recommend you not to. It is not worth the money. It is better to go for the Coin Master Free Spins if you some more.
What can you win in Treasure Cave
The Treasure Cave event consists of 10 levels. In each level you have to find the treasure chest. In the first level you have to find the chest out of only five chests, but as you advance in the event you have to choose out of more chests. The rewards go up though. The rewards also are dependent on the village you are at. The higher your village number, the higher the rewards. I am at village 195 the moment I write this post. The rewards I get when I find all 10 treasure chests are 11K spins, 500m coins, a Joker card and a great chest.
What are your thoughts about the Treasure Cave event
Do you like the Treasure Cave event? What do you like about it and what might be improved. Tell us your strategies on how to choose the right chest to open. Let us know and we all profit!