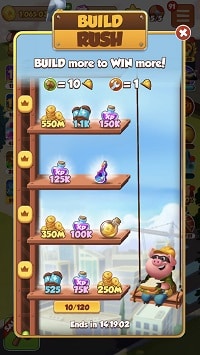 Build Rush is the newest Village event in Coin Master. You probably are all familiar with Village Master and Village mania already, but this one is just as good. In this event you get rewards not only when you build a new village item, but also if you need to repair a village item. So, in the rare occasion when you need to build up your crushed village (which will not be necessary if you follow our guidelines) you also get rewarded in this event. So, let me tell you some more about Build Rush.
What is Build Rush
Build Rush is a side event that is available for a short period of time. This usually is a day or shorter. This makes a big difference to the other Village events. They usually are available for one hour or even shorter. In this period for each village item you build or repair you get points. 1 Point for a repair, 10 points when you build a new village item. Within the event you have missions. To complete a mission you have to reach a certain amount of points. How many points you need you can see on the screen.
What can you win in Build Rush
You can win a lot of awesome rewards in Build Rush. The first thing you always win is Village Mania for the first village you complete. This means you get a 20 percent discount on all village items in your current village. That is a nice reward, but make sure you use that before the time (usually 10 minutes is gone). After the first reward the number of points you need to complete a mission get higher, but also the rewards get bigger. For instance you can win spins, coins, xp, pinata's and chests. Not bad for just playing the game.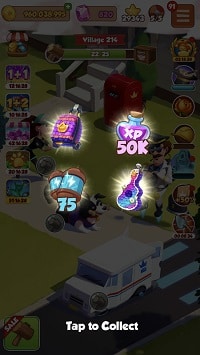 Is this event worth to play?
As you advance in the game the village price of your village items goes up. That means that it will cost you more and more to build and to play Build Rush. You need to have stacked a lot of coins to get to the higher missions of this game. Also you need to make sure you don't advance to quickly because you need to keep up with your card collection. But if you plan on buying items in your village, this is a good time to do it.
What are your thoughts about Build Rush
Have you played Build Rush already? I would like to know what your thoughts are about this village event. Did it work out for you and were the rewards better than with Village Master of Village Mania? Please share it with us in the comment.
Last Updated on February 27, 2023 by Erik Dekker