In Coin Master you have various side events. One of the most recent is Coin Craze. In this event you get 150% or 200% extra profits for every raid, attack and spin. This means that for you raids you can grow your coin stack amazingly quick. In this post I show you how Coin Craze works and how you can play this event.
How do you get Coin Craze
You get Coin Craze as a reward in a mission during an event or from a free Spin link. You can recognize the event by the little gold icon. If you see this event coming up as a reward You need to decide if you want to play it now in Coin Master or at a later stage.
Better play fast and at a high spin rate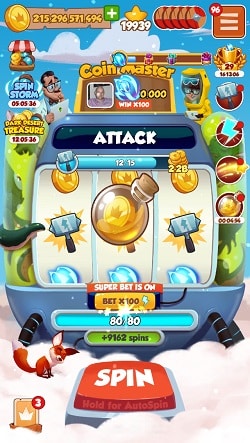 You have te decide if you want to play the coin craze event now or later because the duration of this event is always short. Sometimes 5 minutes, sometimes only 3 minutes. If you activate this event you'd better start spinning big time. To get some extra free spins, just check out the free spins links on this website.
What is the best way to play
Coin Craze is a really short event. To make the most profit of it you must spin at a high bet. Preferably if you have a big raid waiting. When you get Coin Craze from a free spins link you can choose when you start the event. But make sure you wait not too long. The free spin link with this event is only available for a few hours.
Coin Craze as a coin booster
Coin Craze doesn't give you extra spins. As the name says you only will boost your stack of coins. And that might just help you complete your village, or buy enough chests to complete your card set. So, if you are in need of extra spins you'd be sure to check our Free Spins page.
What are your thoughts about this event?
What are your thoughts about Coin Craze? Do you look for this event to stack your coins or do you ignore the event and play only if it fits your strategy. Let me know in the comments. Love to hear how you play this game. I'm sure a lot of players can benefit from the exepriences we all have in this game.
Last Updated on March 3, 2023 by Erik Dekker