Village boom is one of the greatest rewards in Coin Master. You get this rewards if you complete your village during the period this event is active. In this post we explain what Village Boom is, how you know it is active, what rewards you get, and what the best way is to use this event. Enjoy this Ultimate Village Boom guide.
What is Village Boom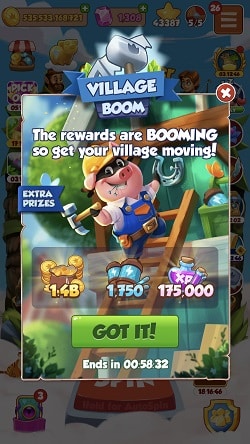 Village Boom is an event in Coin Master that upgrades your rewards when you complete a village. When this event is on you get extra Coin, Spins and XP on top of the regular rewards when you complete a village. By the way, don't confuse this event with the so called 'boom villages'. This term is used by frequent players for villages that contain more gold and rare cards than other villages. This event is totally different.
When is Village Boom active
Events are chose random by Coin Master. This means you don't know up front when this event is active. When it does you see the Village Boom icon on the home screen of Coin Master. This icon looks like a big gray hammer. If you click on it you see the extra free rewards you get when you complete your next village. In this case 1.4B Coins, 1.750 spins (yes, that is a lot) and 175.000 XP. This is for village 240. Rewards will differ based upon the village you are at.
Village boom compared to other village events
As villages are one of the important parts of the game there are several events created around building and completing your villages. Village boom is for now the newest. Other village events are:
Build Rush: Get a reward for every item you build in your village. The more items you build the more and better rewards you get.
Village boost: Get a discount on every item you build in you village. Discounts are 20% or 25% on each item
Village Master: Village boom, but with smaller rewards
Village Mania: Village boost, but with smaller rewards
Also, building village items is part of other events. In the Achievement or Merchant events building village items gets you extra rewards.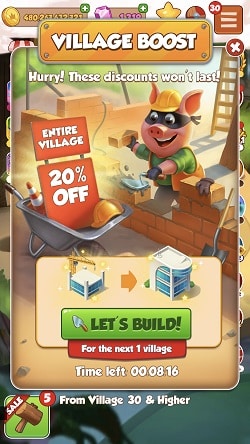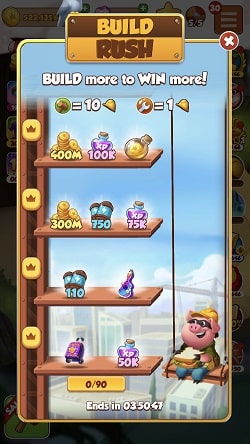 Village building strategies
There are a few things you need to keep in mind when you build a village. If you do so, you can build villages for less coins and get better rewards. Here are some great tips I found during my Coin Master Adventures.
Make sure you have enough coins to complete a village at once. This is needed to get the Village Boom rewards, but also prevents you from getting your village attacked.
Wait until you can combine events. If you can combine Village Boost with Build Rush or Village Boom you are able to get your rewards at lower cost, but still get the rewards.
You can use your gems to get Village Boost from the gems market. This way you can build at a discount.
The first item in Build Rush is Village Boost. If you just build the first item and then wait until you get the reward, the rest of your village is at a 20% discount.
Do you have other tips and tricks for this amazing village event?
In this post I gave you some awesome tricks to get the most out of your villages. Do you have other tips that can help other players in their Coin Master journey? Please leave them in the comments.
Last Updated on November 30, 2023 by Erik Dekker