Viking Season, or similar events like Christmas Season and Anniversary Season are nice new features in Coin Master. In a period of three weeks you can collect cards for new card sets. After these three weeks are over your card sets are also closed, so you have to complete them by that time. When you do you get some very nice extra spins. In this post I tell you everything you need to know about the Viking season.
When is Viking Season
Viking season is new in Coin Master and cannot be compared to Viking Quest, Snow Quest or Desert Quest. This season might be replacing Golden Age, that was up to a few years ago somewhat similar to this new feature. In Golden Age you had better rewards and a discount on all village items. So, this first Viking Season was held in of 2021 and we don't now if and when it comes back. Also it appears that not everybody has this event. Other players might have another event, like Golden Leaf Hunt.
What are the rewards in Viking Season
For now the only rewards we know are Seasonable chests that contain Limited edition card sets. There are three sets in which you can win respectively 500, 2000 and 500,000XP and 10,000 spins and 2,5 million XP. That certainly is worth playing for. If you are in need for Free spins, make sure to check our daily free spins links!
How do you get the seasonable chests
You can get the seasonable when you play the missions in Treasure hunter event, or other events. You can have them as a mission reward or as a reward in Rewards Mania. The seasonable chests are the only way you can get these limited edition cards. At lease as far as we know now. Of course, Coin Master will make loads of money because you can buy too that contain the special chests for Viking Season. And nice to know: the limited edition cards are all gold cards, so you cannot trade them with other players.
Is it hard to complete the limited edition card sets
It probably will be hard to complete your card sets in the short period. Maybe the 500 chest will fill easily, but the second and third card set will be a lot harder. You will have to play a lot of missions in the events, or have to buy a lot of offers. So is it worth it? It might be. At least, for a lot of players it is a nice new feature where they can enjoy the game again.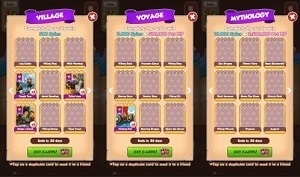 Did you complete your Viking Season card collection?
Where you able to complete your card sets during Viking season? I am very anxious to find out how you did it. Please let us know via the comments on this page. Thank you!