update: Viking Season was the first season event. It started with 3 card sets and now has evolved into 9 sets and an album. This post was originally about the Viking Season, but I have updated it to a post about seasonal chests. This would suit the current situation much better!
Seasonal Chests are available for quite some time now. For example, we have seen Viking Season, Christmas Season and Anniversary Season already and new Seasons keep coming. In a specific period you can collect cards for new card sets. After this period is over your card sets are also closed, so you have to complete them by that time. When you do, you get some very nice extra spins. In this post I tell you everything you need to know about the seasonal chests.
When are seasonal chests available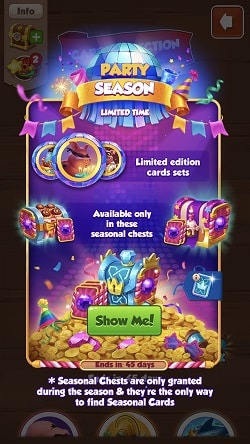 Seasons are new in Coin Master and cannot be compared to Viking Quest, Snow Quest or Desert Quest. These seasons might be replacing Golden Age, that was up to a few years ago somewhat similar to this new feature. In Golden Age you had better rewards and a discount on all village items. So, this first seasonal card sets period, Viking Season, was held in of 2021 and has been available ever since.
What are the rewards in Seasons
For now, the only rewards we know are Seasonable chests that contain Limited edition cards. There are nine sets in which you can win spins. The spins rewards are certainly worth playing for. If you are in need for Free spins, make sure to check our daily free spins links!
How do you get the seasonal chests
You can get the seasonal chests in a lot of ways. You can have them as a mission reward or as a reward in Rewards Mania, you can win them in various side events like Arena of Warriors, you can use a joker card for it or you can buy them with money or gems. The seasonable chests are the only way you can get these limited edition cards. Of course, Coin Master will make loads of money because you can buy them too. And nice to know: the limited edition cards are all gold cards, so you cannot trade them with other players.
Is it hard to complete the limited edition card sets
It probably will be hard to complete all your card sets in the short period. Completing the first two sets will be relatively easy. The third card set is difficult and you might need a joker for one card, but the other seasonal card sets will be a lot harder. You will have to play a lot of missions in the events, or have to buy a lot of offers. So is it worth it? It might be. At least, for a lot of players it is a nice new feature where they can enjoy the game again.

Update: Coin Master added a new feature to complete your seasonal card sets. They introduced the Card Market. If you complete cards missions you get points to buy cards. This way you can easily buy the cards you need to complete your seasonal card sets.
Seasonal Albums give you even bigger rewards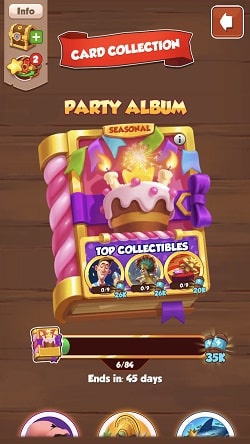 Besides card sets, in seasons, the card sets also belong to an album. If you complete the album you get a massive spins reward. The amount of spins probably will depend on the village you are on, but it will be huge. For example, I am on village 220 and the seasonal album reward is 35K spins. That is more than I have in stock at this moment.
Have you ever completed an album in a season?
Have you ever completed an album during a season? Or did you complete four or more seasonal card sets? Please let me know what was your tactic. I am glad to share it with the readers of this blog.
Last Updated on November 30, 2023 by Erik Dekker