In Coin Master, one of the most exciting new features are the Season Chests. These special chests, which are available for a limited time during each season, offer players the chance to win valuable and rare items, including coins, spins, with exclusive cards.
Unlock Season Chests
To unlock a Season Card set, players must collect a certain number of Season Cards, which can be obtained by getting Season Chests by spinning the slot machine, participating in events, or by purchasing them in the in-game store. Once a player has collected all nine cards, they can open the set to reveal the rewards inside. If you complete all cards sets in the season you complete the album and you get an extra big reward.
Season chests rewards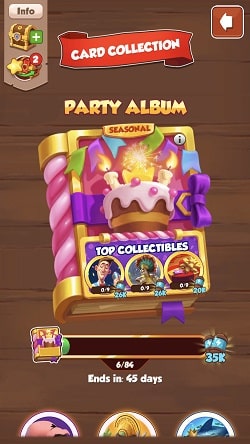 The rewards offered in Season Chests can vary depending on the season, but generally include a large amount of XP, a significant number of spins, and the chance to win exclusive cards. These cards are not available in regular card sets and can only be obtained through Season Chests, making them highly sought after by players. Unfortunately, they are hardly available for trade.
Stars for the leaderboard
In addition to the valuable rewards, opening a Season Chest also earns players points in the Season Leaderboard. The leaderboard ranks players based on the number of stars. Players can compete against others in their own country or worldwide.
Keep this in mind when you go for Season Chests
While the opportunity to win valuable rewards and climb the leaderboard is certainly exciting, there are a few things to keep in mind when it comes to Season Chests. Firstly, it is important to note that Season Chests are only available for a limited time, so players will need to act fast if they want to collect enough cards and open a chest. If you need more spins to open new chests for cards take a look at the daily free spins.
Another important thing to keep in mind is that while the rewards offered in Season Chests are valuable, they are not guaranteed. It is always possible that a player may not earn the rewards they were hoping for, even if they have collected enough cards to open a chest.
Exciting new feature
Despite these potential downsides, Season Chests remain a popular and exciting feature in Coin Master, offering players the chance to win valuable rewards and climb the leaderboard. With their limited availability and the opportunity to earn exclusive cards, they are a great way for players to add to their spin and card collection and compete with others.
What is your pick on the Season Chests
In conclusion, Season Chests in Coin Master offer a great way to earn XP, spins and exclusive cards which can be very valuable for players. They are available for a limited time, and players can earn points in the leaderboard. Be mindful that rewards are not guaranteed and act fast if you want to collect enough cards to open a chest.