Balloon Frenzy is a side event in Coin Master in which you get extra free spins by popping balloons. With this you can add up to 1,000 spins to your total during the time of this event. In this post I tell you how to play this event.
How to play the Balloon Frenzy event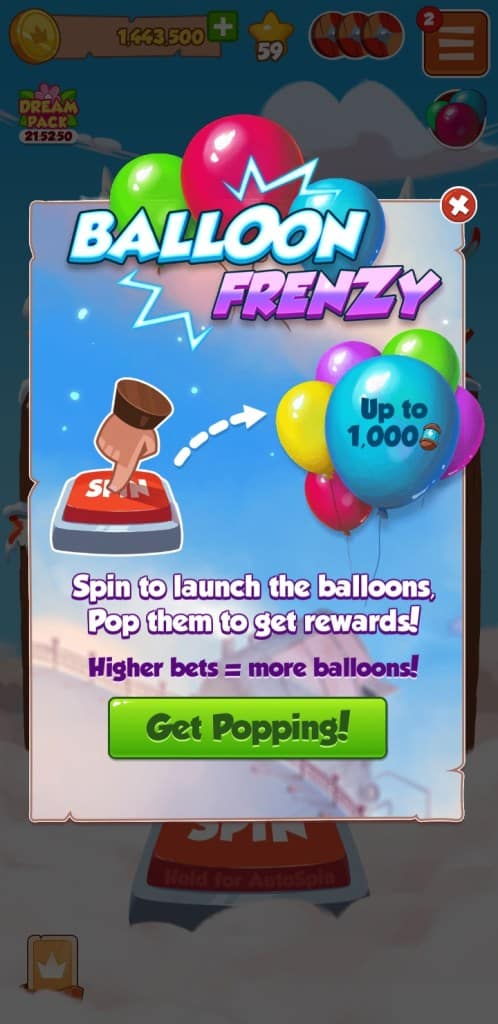 When the balloon Frenzy event in Coin Master is on you will notice balloons sliding through your screen from bottom to top. Just tap on them with your finger the balloon pops and you get extra spins. The number of spins in a balloon ranges between 1 and 20. Above all, if you hit all the balloons you will get an extra 1,000 spins for free.
When do the balloons appear
The trigger to get the balloons is to spin the wheel. After a few spins the balloons from balloon frenzy appear. Most of the times they come in groups of 5 balloons. Make sure you hit them before they leave at the top of the screen. Usually,the first balloons appear after about 30 seconds. The second series of balloons show up after almost 2 minutes. If you stop spinning no more balloons will pop.
How to get the most out of the Balloon event
First of all, you have to spin to get the rewards. But remember that the spin multiplier has no influence on the balloons. So, it is a great idea to just spin at 1x during this event. This means it will take a lot of time before you have popped the balloons, but you will probably break even on spins. You extra coins, xp and mission progress are for free!
Similar events to Balloon Frenzy
There are several similar events to Coin Master Balloon Frenzy. In these events you get cookies or other elements. These elements not only give you spins, but also you get coins.
My thoughts about Balloon Frenzy
I think the amount of spins you can win at Balloon Frenzy is not worth playing it. You have to play at 1x spins and play very slow to use the event at it's best. But, then again, extra spins are always nice to have. So, if the balloon event is on when you are online, don't forget to tap the balloons if they pass by in your screen. If you need more free spins, make sure you get the daily free spins we collect for you.
Your opinion on this event
What is your opinion on Balloon Frenzy. Do you like the event and how do you play when this event is on? Share your thoughts in the comments so we all can learn from it. Together we can play this game the best way!
Last Updated on March 22, 2023 by Erik Dekker