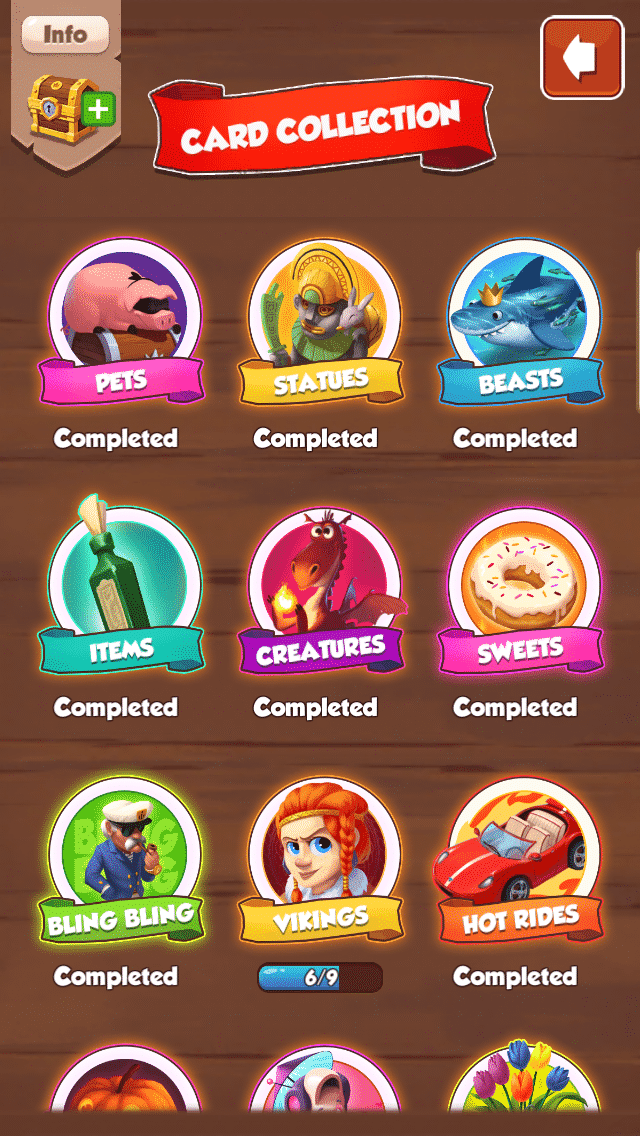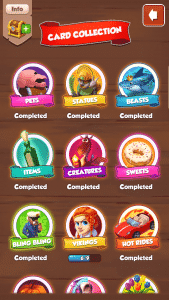 Update: Since an update in august 2019 this strategy seems not to be working anymore. Or it got a lot harder to play. So it is best to collect in village 5 as much cards as are open and then advance to village 8 to get cards and to village 10. This way you can complete your sets fairly easy.
When you start playing Coin Master you play the tutorial village. With every village you complete you get extra's. First you get the multiplier (up to 3 spins), then you get daily bonus coins, autospin, events and the card collection. This card collection helps you get extra spins. For this card collection village 5 is really important.
Not all cards are unlocked
Cards can be bought for coins, are gifted to you for completing a village, or you find them sometimes in empty holes during a raid. But you can only get the cards that are unlocked. When you move to higher villages more and more cards are unlocked. But not in village 5 😉
In village 5 you can get locked cards
Village 5 is special. In this village you should stay a while and keep buying chests. What happens. In village 5 you can complete your first unlocked sets. When you have gotten all your unlocked cards something special happens. When buying chests you get cards from locked sets. These cards appear always in the order they are in de card set. First the card upper left and then they are found from left to right and from top to bottom. This also includes gold and rare cards. you can get cards even up to Mythical. This card set normally opens only at village 70.
Why should you complete sets in village 5
By completing card sets you get extra spins and xp for your pets. With these extra spins you can play longer. But if you use your spins only to buy chests you are missing out on spins in higher villages. You only can show off with your completed villages. That's why you should play a little different.
Stack your spins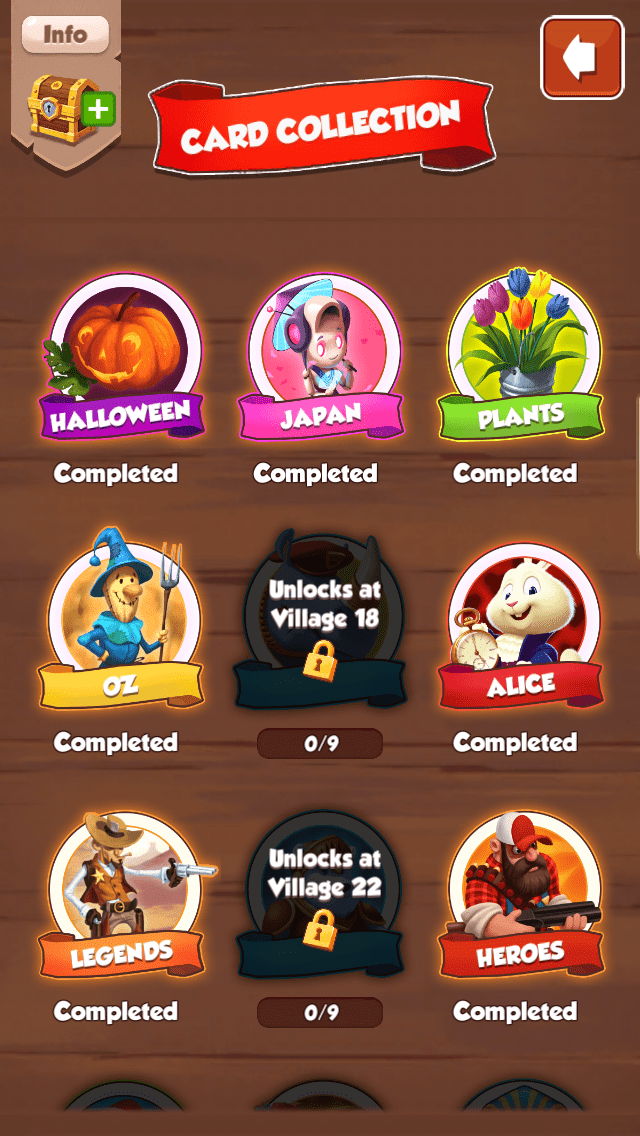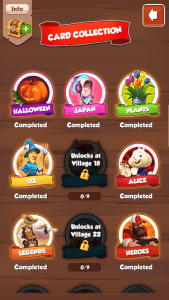 When you play to complete your card sets in village 5 you should combine buying chests and playing events. With every event you should play to increase your spin stack. With the coins you win you should by chests. By buying chests you complete your card sets. With a completed card set you get even more extra spins. I played this and got to the heroes card set which normally opens only at village 25. This got me 16,500 spins stacked and 2 billion coins. After this I started playing and moved directly to village 23.
Tip: Use these daily Free Spins to get villages and card sets completed sooner!
How long should you stay at village 25
How long you stay at village 5 is up to you. I stopped when completing het Heroes card collection, but you can even play further. But what I found is that it takes longer for every set to open and complete. So what you should be aware of is dat you shoulden't lose spins on this, because stacking spins is the only reason why you are opening card sets.
How many card sets did you open in village 5?
Did you play village 5 to complete card sets? How many sets did you open? And did you stack a good amount of spins? Let me know in the comments.