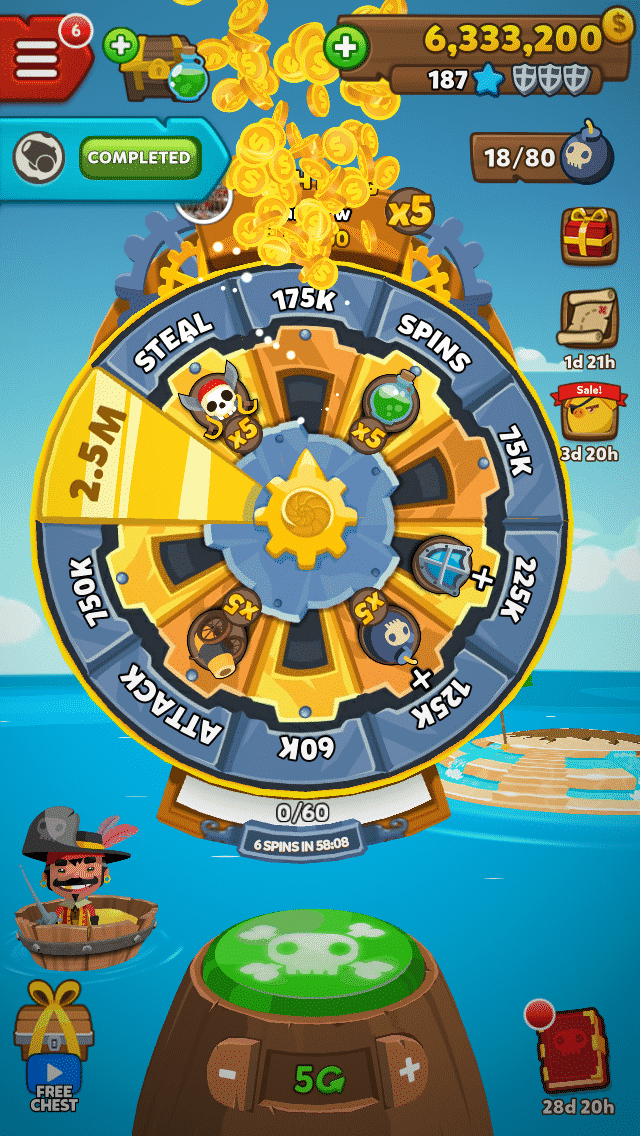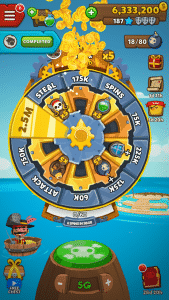 Pirate Kings is one of many games that have a gameplay like Coin Master. But is this game a good alternative if you run out of spins in Coin Master? If you need more free spins in Coin Master you should get them first. But if you are ready playing Pirate Kings might be the right alternative for you. In this review I tell you why you should try this amazing game.
Awesome Youtube video's
To help you we created a lot of Youtube Video's of us playing Coin Master. See how we play the events and complete Viking Quest! You can subscribe by clicking on the button below, or visit the Coin Master Video page.
What is Pirate Kings
Pirate Kings is a game much like Coin Master. You have to spin the wheel to get coins to buy items in your villages. In this game you have to build islands. Also you can attack the islands of your friends and enemies and you can raid them. To protect your items you have shields. An extra feature is that you can collect bombs to attack a special pirate. If you crush one of his properties in time you get extra coins and spins.
How to play Pirate Kings
You play Pirate Kings by spinning the wheel. With the coins you buy items on islands. When you have bought items on your islands you need to protect them with shields. You also get these from spinning the wheel. If you can attack and raid as much people you like. For other features just look at the tutorial when you play this game for the first time
Differences between Pirate Kings and Coin Master
Though the gameplay seems quite the same there are some big differences between Pirate Kings and Coin Master. Coin Master seems to have evolved a lot. In this Pirate game, for example, you cannot collect cards for extra spins, xp or coins. Another difference is that you don't have pets to maximize your winnings. The game does have another option and that is that you can collect cards to complete a book. If you finish this book in time you get a few thousand spins and coins. This is a great feature but it might be difficult to finish the book.
Pirate Kings Free Spins
Just like in Coin Master you get regular Free Spins. You have to follow them on their social media channels to get these Free spins. If you don't want to follow them on social media and look which link has a gift you can look out for sites that collect these links and put them on their website. Be careful though, since there are a lot of fake sites that try to make money by misleading you.
Rewards in Pirate Kings,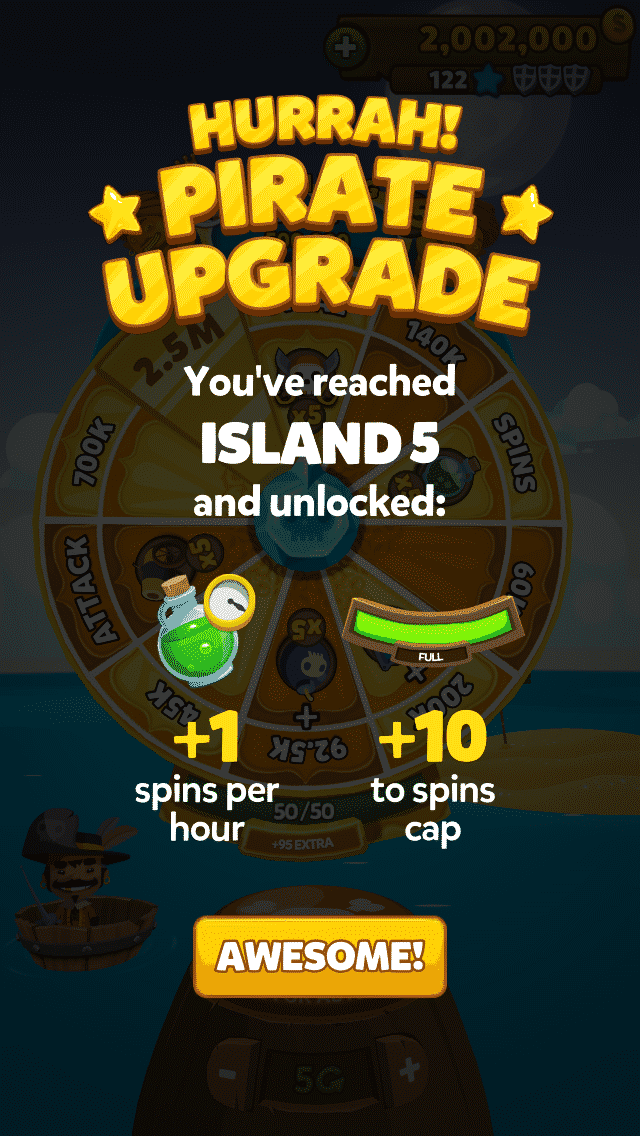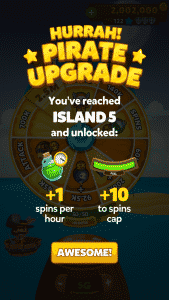 To continue playing Pirate Kings you are rewarded free spins every hour. The island you are on determines how many free spins you get and how many spins you can store. You start off with 5 free spins every hour and after a few islands it grows to 6 free spins and 60 free spins storage. Next to this you get your daily rewards there are Pirate Quests in which you can earn spins and coins and challenges. This can make you jump ahead in the game much faster.
Connect to Facebook for extra spins and coins
If you connect your game to Facebook you will be able to save your progress in Pirate Kings. Also you can connect with your friends and send each other shields. Make sure you don't attack each other, unless you both agree on that. The first time you connect to Facebook you get extra free spins and a lot of coins.
Less players than Coin Master
One of the advantages of Pirate Kings is that not that much people play this game. This means that you won't get attacked or raided as much as in Coin Master. It will be harder to complete your islands, but since I am just t island 7 (after 1 day of playing) I cannot tell much about that for further islands. I will share that with you later.
Should you play Pirate Kings
Pirate Kings is definitely a game you should try if you like Coin Master. It has a similar gameplay but with a few nice new elements. I hope you enjoy it too and maybe we can become friends in the same so we can help each other. Let me know your player name in the comments and I will add you!